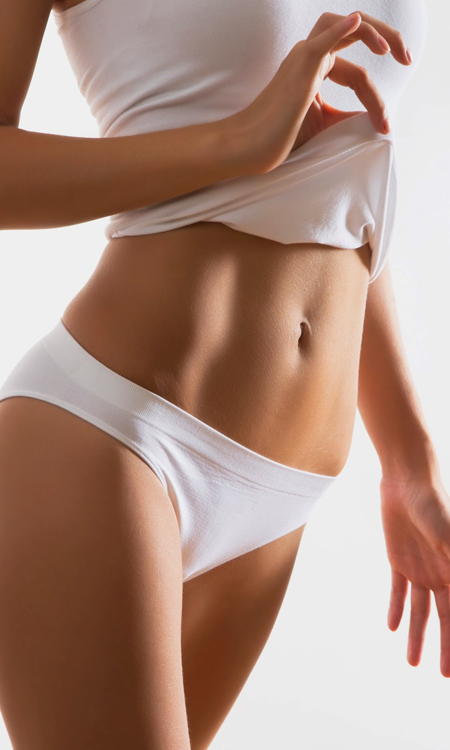 A tummy tuck, or abdominoplasty,
removes excess fat and skin, from the abdomen that cannot be managed by diet or exercise. It can flatten your abdomen by tightening muscles in the abdominal wall, creating a firmer and smoother silhouette. It can also remove some if not all of the stretch marks in your lower abdomen. . Most of the time the tummy tuck is done under epidural anesthesia , along with intravenous sedation.
A flat and well-toned abdomen is something many of us strive for through exercise and weight control. Sometimes these methods cannot achieve our goals.
causes of abdominal sagging skin are numerous, it could be due especially to aging, heredity,pregnancy, significant weight fluctuations.
A tummy tuck is not a substitute for weight loss or an appropriate exercise program.
After a tummy tuck one has to maintain his results by watching his diet and body weight.
Slender individuals with extra fat and loose skin in the lower tummy are the best candidates; if you are generally obese, this procedure is not appropriate for you.
You will benefit from a tummy tuck, if you've got flab, stretch marks or excess skin in your abdomen that does not improve with diet or exercise.
If the shape of your abdomen has been affected by pregnancy or massive weight loss.
If you feel that your protruding abdomen is unattractive.
If your self-confidence is marred by your stomach contour.
Smoking slows down the healing process and increases the risk of serious complications during and after surgery. If you smoke, you must quit at least six weeks before surgery.
During the surgery:
Markings will be drawn on your abdomen to indicate the location of the incisions, the center of your torso and the location of the repositioned navel.
A solution of lidocaine (a local anesthetic) and epinephrine (a vasoconstrictor that controls bleeding by constricting blood vessels) will be injected.
The primary tummy tuck incision will be above the pubic mound, from one hipbone to the other. In a full abdominoplasty, another incision is made around your navel. In a mini-tummy tuck, Dr Audi will use a shorter incision.
Dr Audi will loosen the skin from your abdominal wall to your ribcage and then place sutures in the fascia of your abdominal muscles to pull them into a tighter position. This is the muscle repair portion of the surgery.
After your abdominal muscles have been sutured, the excess fat will be removed by liposuction or other methods. Your abdominal skin is then stretched down over your incision line and the excess skin is removed.
Next, Dr Audi will mark the placement of your navel. Although the skin around your navel has been moved, the navel almost always stays in the same place. He will cut a hole through the redraped skin and sutures it around your navel. Depending on the case, sutures, staples or Steri-Strips to close the incisions.
Your incision site will be covered with a dressing to keep the area clean and protected. You will also be wearing a wide elastic compression garment to reduce swelling and provide support to the skin as it tightens. You will wear this garment for several weeks.
Depending on the extent of your abdominoplasty, the surgeon will often insert one or more drains to prevent fluid buildup. The drain is a clear plastic tube placed through a very short incision below the main incision, which leads out of the body to a small oval-shaped bulb. Each time you empty a bulb and before you close it again, you will be asked to squeeze it to help drain the wound. You will be asked to empty the drains a few times a day and keep track of how much fluid comes out. Drains are usually removed from three to fourteen days after your surgery, depending on how much fluid is coming out.
If you have traditional sutures, these will typically be removed within the first week or two (absorbable sutures will not have to be removed).
After the surgery:
You should be up and walking the day after surgery, although slowly. It is important to walk to discourage swelling and to prevent blood clots in the legs. However, avoid strenuous exercise for four to six weeks, because it can trigger unnecessary fluid retention in the treated areas.
Plan to take about two weeks off from work, depending on the physical demands of your job.
Make an effort to ease back into your normal routine gradually rather than all at once.
Wearing your compression garment as directed reduces the likelihood of loose or sagging skin after an abdominoplasty. The compression garment also helps to control swelling, resulting in a shorter recovery period.